"One Man's Opinion" by Gordon Curvey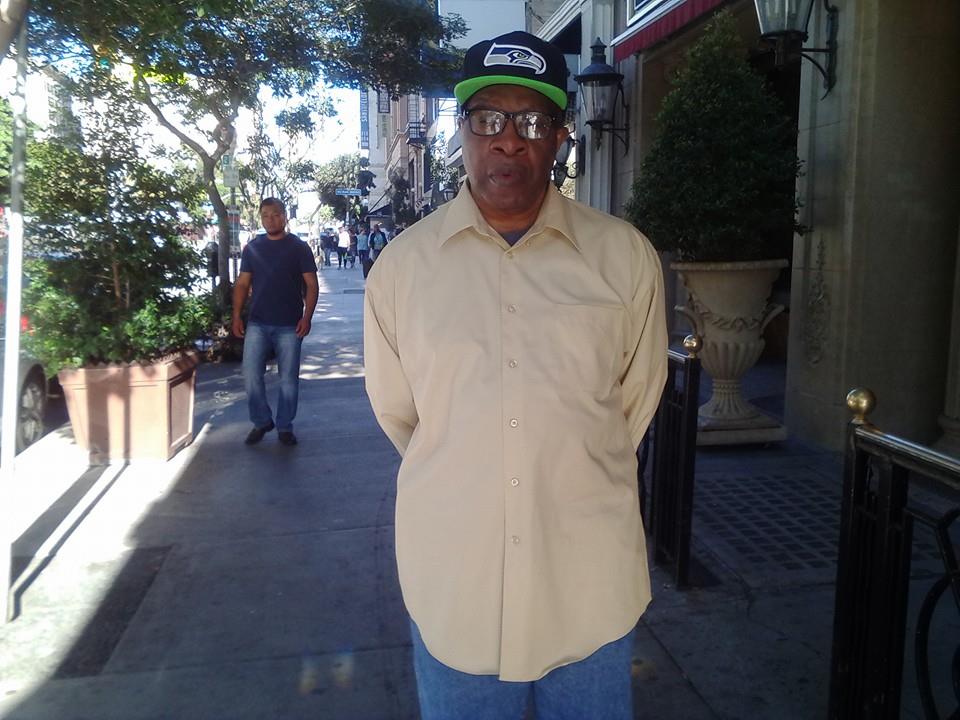 Well ladies and gentleman with god's help I have made it to Los Angeles for red carpet coverage of the 2015 American Music Awards. It is god up above that my program was approved for red carpet coverage for my program "Music Inner City TV" (pic of yours truly hangin out in downtown Los Angeles)
I think the prayers of my longtime friend Pastor Zackery Bruce out of Seattle a few days before I left for Los Angeles helped me BIG TIME!! Readers I am here to tell you PRAYERS WORK!! I called Pastor Bruce to ask for his prayers and opinions on how I can handle negative situations I found myself in the last few weeks.
Starting with a situation where a former KUBE93 DJ who now works for the Mariners talked to me like a piece of dirt when I walk in Safeco Field and I am telling you she talked to me very very badly. Then after that a sports jock on 710 ESPN, the ONLY African American on the air on a regular basis in the Seattle area AND a person who yours truly was responsible for that he was hired,  called me a bunch of below the belt names.
And some other negative issues I was trying t0 deal with. So I called Pastor Bruce. He told me that he was going to pray for me. Pastor Bruce respects big time all the work I have done for the "community" over the years/ And I respect Pastor Bruce big time. He told me DO NOT let all the haters get you down.  He said sometimes when you do good, negative stuff sometimes slips though. He told me to STAY POSITIVE.
Well then a few days after speaking to Pastor Bruce, POSITIVE things started to happen. The Mariners called me to tell me that the person who talked to me badly was wrong. Then after calling the GM of 710 ESPN, I got a call from him after he looked into the situation and he said the person who called me TERRIBLE names, Gee Scott was wrong in talking to me in the manner he did.
Then two or three big boy things happened. After applying for the American Music Awards 18 or the 25 years of "Music Inner City TV" and only being allowed to cover the event ONE TIME in 2008, I checked my email and I thought or well ANOTHER turn down email telling me no coverage of the AMAs via the red carpet. BOY WAS I WRONG!!!
The email said "Music Inner City TV" has been APPROVED for red carpet coverage for the 2015 American Music Awards!!!! I COULD NOT BELIEVE WHAT I WAS READING!!! WOW!! CRAZY!!!
Then I had to try to come up with travel and hotel for the trip to L.A. or I would not be going. BUT I was NOT going to miss the chance to be on the red carpet at most likely is the biggest event in the music industry. Bigger than the Grammys in a lot of folks minds. One of the companies who send me videos helped sponsor me and a friend/business person here in Seattle helped me also and with a AAA discount I was able to be here in L.A. to cover the AMAs!!!
LADIES AND GENTLEMEN PRAYER DO COME TRUE!!! Myself and another longtime time friend Tammy Jackson Cloy aka Twin Tammy J will try to grab as many entertainers as possible on the red carpet for our fans. God has allowed us to be here and most likely we are the only Seattle area media covering the AMAs.
Sorry to say a family Thanksgiving issue has popped up BUT I will allow God to handle it folks and hopefully he will pull me though like he has the last few weeks. Thanks to all the supporters of "Music Inner City TV" in our 25 YEARS OF BROADCASTING!!